Setting up SysReset to Serve
Download sysreset from http://www.dejatoons.com/sysreset/

Install it to a separate directory from your existing mIRC, if applicable, then run the new mIRC.exe.
How to set up a f-serv: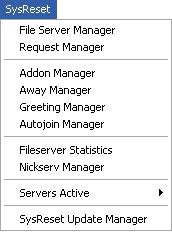 Select File Server Manager.




You'll need to create a trigger for someone to access your fserv. So click add and just follow it thru. Name your trigger, press cancel when you get a welcome file and find the folder where your files are to share. Make sure the trigger, /ctcp mode box and the respond to !list box is check. Put 0 minutes for ad delay. Press done until you get to the main screen.




To activate your server to the above.

If you're behind a firewall you need to do the following:




Follow this picture, except uncheck the box that says enable RDDC Server.

Make sure you check enable firewall workaround and set the port to 59.